Another reason why 2010 will be a big year for me and my family? This is the year that we move to New York City. We have been going back and forth between living in the city and living in the suburbs. Right now we are thinking city, mostly for commute reasons. {Well, mostly because the city is AWESOME, but secondly because an hour+ commute for my husband after a 14 hour work day is no good for him or me}
This NYC apartment
was featured in September's Martha Stewart Living and has already been posted about a few times, but I LOVE it. I think if we end up in the city, this sort of decorating is the way to go. Spare and clean, but lived-in looking and real. Jennifer Chused owns this Brooklyn apartment with her son and husband. She is one of the head designers at
Dwell Studio
.
First up, the foyer. Check out the antiqued mirror! Who really wants to see a wrinkles-and-all-reflection every time they walk in or out of the house? Here's a
great tutorial
for turning any plain-jane mirror into an "antique."
I think this is an awesome kitchen for a city apartment - butcher block counters and subway tiles all the way to the ceiling.
The rug
is from Madeline Weinrib and the bull's head is from a flea market.
Here's Jennifer in her stunning dining room. I love the yellow rug and all the pretty wood furniture. Noticing a trend with the creamy white walls? So fresh! And I like that she opted for simple cream fabric shades on the windows. Not at all fussy.
The linens are
from Dwell
(naturally). They look great paired with the
peacock dinnerware
from Anthropologie.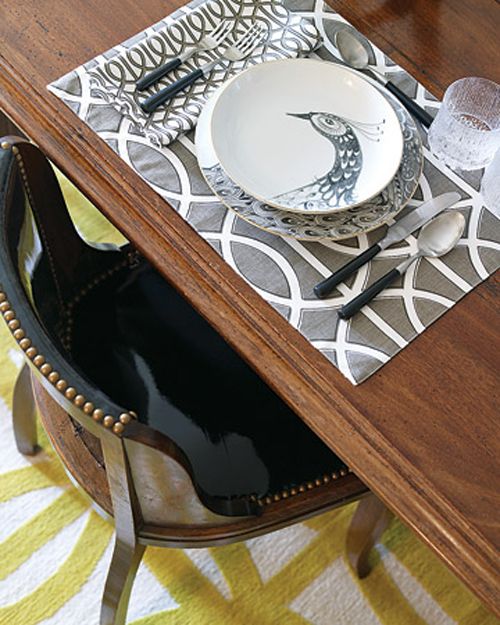 Jennifer's son's play room is absolutely adorable. The rug is from
Dwell Studio,
as are the
fabric shades
. The red rocker in the back corner is such a fun punch of color! It is Ron Arad's design for Vitra, called the Tom Rock chair. I could only find the straight leg version online,
at Unica Home.
Craigslist sometimes produces this chair or similar rockers.
Jennifer made the soft storage bins shown here, but there are some available for purchase from the
Dwell brown dots collection
. The red toy bridges are available
here
.
And don't you just LOVE the framed series? Yup, you guessed it. The prints are pages from a book about vintage airplanes (I wish they had shared the title of that book!! Anyone know?).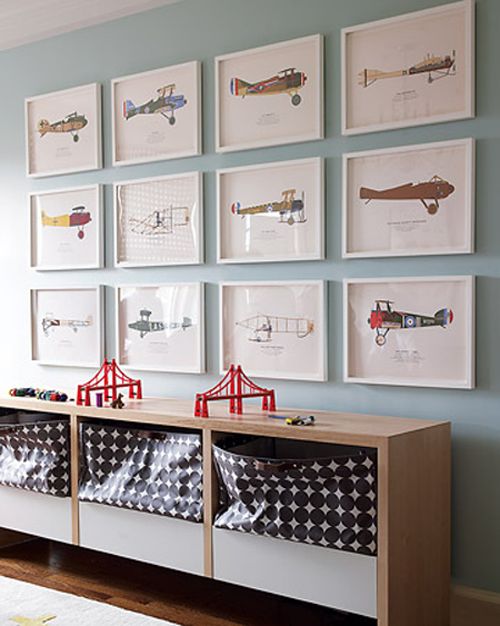 The vintage pronunciation chart, also in the playroom, is absolutely adorable!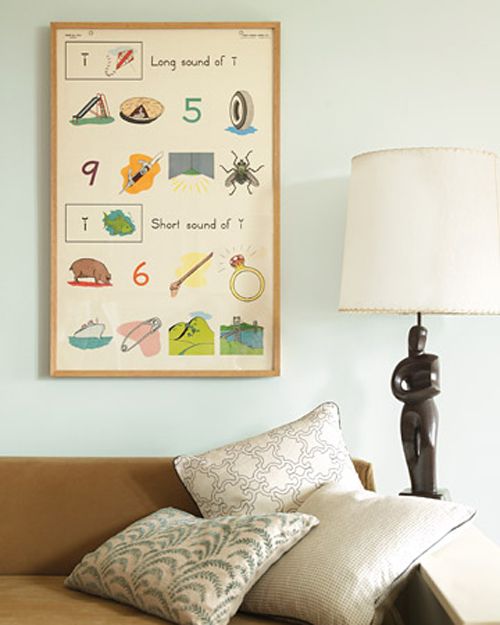 You can purchase similar vintage educational charts on eBay and etsy. I like
this one
and
this one
is very cute (especially if your child's name begins with R!).
There is a whole series of these
adorable charts
. Love the black and yellow! Someone should snatch these up ASAP.
Jennifer and her husband's bedroom is probably my favorite room in the apartment. I love the subtle gray-green wall color, the chandelier, that mirror!, THOSE PRINTS!!, and the chest (purchased on eBay). I also spy Dwell's
Pearl Chinoiserie bedding
. Very pretty!
So here's my question for you readers - would you rather live a little on the spare side in the city? Or are you more inclined to the urban sprawl with lots of room for lots of stuff?

Here's my problem: I have lots of stuff and I love the city. Boo.